When you're done here, check out the rest of the Bicultural Mom blog carnival on multicultural awareness!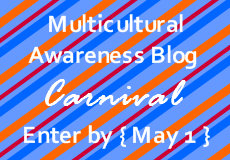 As a child of a multicultural family, fried rice holds a special place in my heart. While keeping the flavors and ingredients of my own families' food near and dear, it provides the ultimate canvas for experimenting with flavors and ingredients from other countries and cultures.
Fried rice was never a "special" meal in my Filipino-American household. Rather, it was a common occurence after family gatherings and holidays like Easter or Thanksgiving. Events with a surplus of roasted meat and steamed jasmine rice. Some families had hotdish or stew to clean out those kinds of leftovers – we had fried rice.
Our fried rice had no bounds – honey glazed ham, hamonada, roast turkey, bratwurst, Spam, chicken breast, lima beans, corn, peas, carrots, cole-slaw mix – it all went in with a couple of scrambled eggs, soy sauce and garlic. Filipino, Spanish, Chinese and American cuisine all rolled into one warm comforting dish.
Today, I keep the multicultural fried rice tradition alive in my Pakistani-Polish-Mexican neighborhood in Brooklyn, NY. Jasmine rice is hard to come by, so I've embraced the longer grained basmati rice favored by my Pakistani neighbors. After six years in New Mexico, my palette still cries out for chiles, so we crank up the heat on an otherwise mild, savory dish. Raphe will roast Southern-style chickens with paprika and beer on a regular basis, throwing the beer drippings into the rice cooker. The rice, chicken and even the gravy end up in fried rice a few days later.
Continue reading